Discover more from The Weekly Stack
The latest alpha on Bitcoin Ordinals & NFTs, brought to you by Gamma.io.
The Weekly Stack: Bridging NFTs from Ethereum to Stacks
Happy Monday!
Welcome to our weekly newsletter. Here, you'll find news, updates, and sneak peaks you won't find anywhere else, so be sure to share and subscribe if you haven't already!
---
Weekly News
Trust Machines
Have you heard the news? Trust Machines has just raised $150 million to help fund development of bitcoin applications on Stacks — and that means we're bullish on #buildingonBitcoin. Read more down below!
To hear experts in the space discuss how Trust Machines will help expand Web3 development on Bitcoin, listen to the recording of this spaces segment:
STXNFT will continue to pioneer building tools for Bitcoin-secured NFTs. We've got a lot in store for you...stay tuned!
Resources
The Mintery
The Mintery has officially crossed 100 applications and is now closed! For those who are accepted by the program, congratulations! We can't wait to work with you and have your collections featured on stxnft.com.
Exciting Drops & Releases
Satoshibles... on Ethereum AND Stacks!
Thanks to a bridge built by the Satoshibles team, Satoshibles can now be traded on Stacks. How cool is that?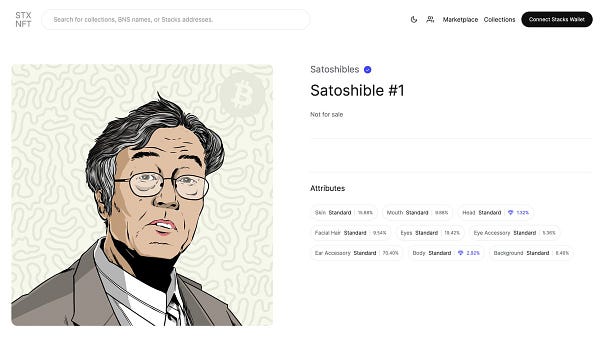 Great News! 🚨 We have started to deploy @stacksbridge 🎉 That means, starting this weekend, Satoshibles will be available for purchase on @Stacks 🚀 Let's bring Satoshi home to #Bitcoin Join the discord for more info: https://t.co/La2lCaKAKk https://t.co/EWRZfSVMzw
If you own a Satoshible (you can buy one off of our marketplace here), be sure to share them with us on Twitter — we want to see them!
Additionally, to celebrate this historic, nifty moment, we're running a giveaway. All you need to do is bridge and list or buy any Satoshible on stxnft.com through tomorrow (Feb 8), and you'll be entered to win a BTC Monkey valued at ~400 $STX. Good luck!
Our Self-Service Collection!
Did you know that you can explore the collections made via our self-service portal through https://create.stxnft.com/ ?
Today, we're featuring an original — our first photography collection via the creator portal. Check out the Blue Ridge Biker B-Sides series!
Thanks for tuning in! We'll be releasing our public self-service feature very soon. Thank you for your patience!