Discover more from The Weekly Stack
The latest alpha on Bitcoin Ordinals & NFTs, brought to you by Gamma.io.
The Weekly Stack: I ❤️ Gamma
Welcome to Gamma's weekly newsletter, where we share all the latest news and alpha surrounding Bitcoin NFTs. Subscribe and share so you never miss an issue!
Inspired by Gamma ✨
A few weeks ago, we announced a fun #InspiredbyGamma competition for a fellow creator to win two Industry Passes to this year's Bitcoin 2023 Conference happening in Miami this May.🏝️ After receiving so many incredible submissions, we randomly drew a winner. Congratulations again to Ixchel! 🎉 Check out her submission below:
Here are a few more submissions inspired by our iconic Gamma logo — check out the hashtag #InspiredbyGamma to see all the entries!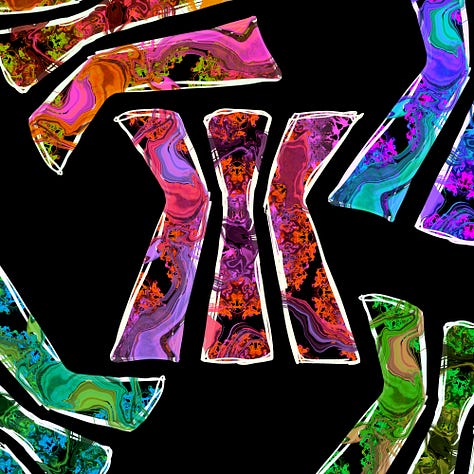 Come hack @ Ordinals 2023!
Ready to attend the first ever Ordinals conference? We're so excited to present the official Ordinals 2023 hackathon, where you can win over $9000 in prizes. You can register for the hackathon right now, and start working on your project from home. Once registered, you'll gain access to the official Ordinals 2023 discord where you'll get to meet other hackers and discuss your ideas.
Submission deadline: May 12, 2023 @ 11:59 pm EST
Join us at Ordinals Alley 🖼️
We're just a few weeks away from hosting Ordinals Alley at Bitcoin 2023! Starting this week, we'll be releasing information on each artist selected from our Ordinals Alley open call selection. Congratulations to everyone selected!
---
Resources & education ✏️
New to Gamma? Here are some links to help you get started:
For more help, check out our community support page or email support@gamma.io.
---
Featured Ordinals projects 👩‍🎨
Check out this trending collection on Gamma! If you buy a Formation Voucher on Gamma, you'll be airdropped a Formation Ordinal.
A generative art tribute to the daily process of forming blocks with creativity, passion, value and energy. Compositions have been carefully selected by color experts who have researched the effects of colors on how we feel. 111 works of art inscribed in high resolution on Bitcoin. Made by Orange Farm.
First 100 diamonds ever on Bitcoin, inscribed between #10565 and #13375. Handmade by renowned South African artist Johnathan Schultz (@iconoclast_js) whose work of art often involves precious metals and diamonds.
---
P.S. During the month of April, we launched a campaign where if you bought or listed an Ordinal on Gamma, your Bitcoin address was automatically entered to win one of 11 prizes:
Winners have now been airdropped their Bitcoin prizes. Congratulations to everyone who participated! 🎉
Thanks for reading! We'll see you next week. 🫡