Discover more from The Weekly Stack
The latest alpha on Bitcoin Ordinals & NFTs, brought to you by Gamma.io.
The Weekly Stack: Inspired by Gamma ✨
Welcome to Gamma's weekly newsletter, where we bring you all the news and alpha around Bitcoin NFTs. Subscribe so you never miss an issue!
Join us at Bitcoin '23! 🏝️
Want to attend the world's largest Bitcoin conference happening May 18-20? Here's your chance to win two Bitcoin Miami 2023 Industry Passes (worth $1999 each) for you and a friend.
At the Bitcoin Conference, you can network with top industry leaders, explore Ordinals Alley (co-hosted by Gamma & X-verse), and enjoy the ultimate crypto conference in sunny Miami Beach, FL.
To enter the Inspired by Gamma art contest, create your best artistic interpretation of our iconic Gamma logo. We respectfully ask that you adhere to our brand guidelines, but feel free to use your vision to create something otherwise unique!
Here are the steps for submission:
Create your artistic interpretation of the Gamma logo

Post your submission on Twitter using #InspiredByGamma

Tag and follow Gamma (@trygamma)
The deadline for submissions is April 27th, 2023 at 12:00pm EST. We'll announce the top 20 finalists and the lucky winner on April 28th! Good luck and we can't wait to see you in Miami. 🏖️
Ordinals auction with Bitcoin Magazine 🚀
Over the weekend, Gamma held the very first trust-minimized dutch auction for Ordinal inscriptions, in partnership with Bitcoin Magazine.
The Bitcoin Magazine Historic Covers is an exclusive Ordinals collection celebrating the history of Bitcoin through 1/1 inscriptions of the first 23 covers of Bitcoin Magazine.
During the auction, the highest sale for the very first magazine cover sold for 1.25 BTC. Congratulations to the lucky bidder! On the secondary marketplace, several covers are still available for the base price of 0.2 Bitcoin. For each primary sale, holders will receive a physical copy of the corresponding historic magazine. Explore the entire collection below 👇
NFTNYC 🗽
A huge thank you to everyone who joined us at the Gamma x Nochla Shows event during NFTNYC! We had an absolute blast meeting you and showcasing some amazing art from the community, including pieces from Grace Hye, Arno Carstens, and Levi Harrell.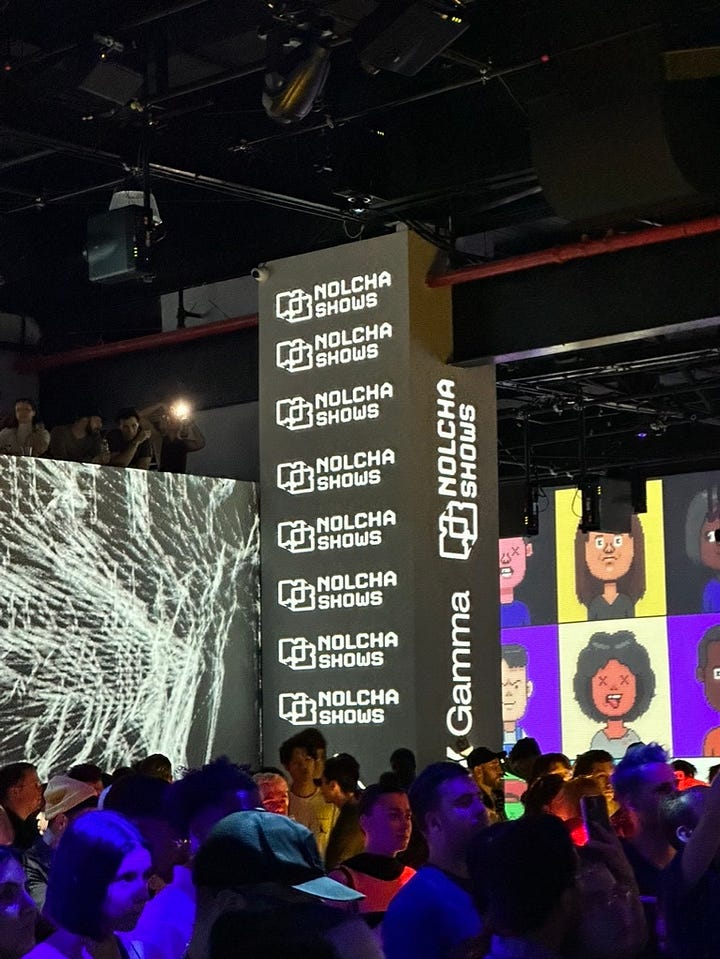 ---
Resources & education ✏️
No-code Ordinals launchpad
When Ordinals took over the space, Gamma quickly launched its no-code creator platform for inscribing Ordinals, making it possible for anyone with a Bitcoin (BTC) address and a compatible wallet, to inscribe their own Ordinal.

The platform allows users to create single Ordinal inscriptions, bulk inscriptions, airdrop Ordinals, request collection pages and launch Ordinals Public Mints, and more is to come. Gamma offers an easy and low-cost way of inscribing Ordinals, where creators are given the option to choose or customize their transaction fees based on network congestion.
Explore Gamma.io to inscribe your first Ordinal today, or learn more about Gamma's no-code launchpad in our learn article below. 👇
---
Featured Ordinals collections & artists
We're stoked to feature some of the talented female artists who have launched Ordinals collections on Gamma. Keep reading to learn about their stories and to check out their artwork! 🎨
Hello, everyone! I'm Zero, the co-founder of Aiko Desho.

My project, Aiko Desho, expresses passion and individuality through anime-style art, which I am a big fan of. I wanted to create a world where you could identify your personality with a character from the collection and let your imagination run free. Driven by insatiable curiosity and a love for technology, I found myself delving into the cutting-edge world of Ordinals.
Rebellious, daring, and challenging are just a few words that come to mind when describing me. I've been creating art for as long as I can remember. There's something unreal about taking an image from your head and bringing it to life.

After releasing a few drops in the Ethereum L2 community, I found myself drawn to the idea of creating what I wanted, rather than what I thought I should do. This led to my latest project, Bad Bitches, which is all about being true to yourself while embracing the darker aspects of who you are. I discovered Ordinals and loved the immutability of its inscriptions. I felt it was the home for art-focused collections and I'm astounded at the welcoming and supportive community.
I'm Dee! My full name is Dema, it's Arabic, and it means the cloud that rains peacefully, bringing the goods of the earth. I do believe that the name I carry is a short description of my character. I am quite peaceful and calm, and that reflects in my creations in a very noticeable way. I am a nature lover — sunsets and bodies of water are my peaceful joyful space.


If there is one thing that I have been passionate about from the beginning of my time on this earth is art. I am a self-taught artist and designer. Creating is a never-ending affair. To capture the beauty of a certain moment is a passion that comes from within the spaces between my ribs. I hope one day my art will cover up walls, fill up homes with peace and joy, and be displayed with love.
I am a tech entrepreneur, angel investor, neuro-artist, and international speaker specializing in de-risking startups, innovation ecosystems, and creative uses of emerging technology.


Through my work, I have gained a global view on the barriers to innovation and human potential. As an artist, I develop interactive experiences to elevate consciousness and empower action using technologies like EEG sensors, VR, and AI. My work has granted me invites to exhibit at MIT, Stanford University, China Fashion Week, Shanghai Tower, Singapore, and other cities, where government officials and the public were introduced to the possibilities of neuroscience and emerging technologies through my art. I am also proudly the founder and artist behind Crash Punks on Stacks.
---
Thanks for tuning in! We'll see you next week.🫡
420 giveaway 🥬
PS Want to win a ฿itcoin ฿ud? Retweet this tweet and drop your Ordinals address in the comments for a chance to win. 😎