Discover more from The Weekly Stack
The latest alpha on Bitcoin Ordinals & NFTs, brought to you by Gamma.io.
The Weekly Stack: Jumpstarting liquidity 💧
Welcome to Gamma's weekly newsletter, where we share all the latest news and alpha on Bitcoin NFTs. Subscribe and share so you never miss an issue!
Jumpstarting your project's liquidity 💧
We know that as a new creator on Bitcoin, it can be tough to build a community around your project — especially when buyers and sellers are choosing between several different marketplaces to explore.
For Gamma, nothing is more important than making sure creators can earn from their work, connect with their communities, and preserve their legacies. And as the only Ordinals marketplace that offers secondary sale royalties to keep projects healthy, this week we're also rolling out a promotion for all projects launched on Gamma to help jumpstart their secondary sale liquidity. Here's how it works.
All collections that launch with Gamma will get 30 days of 0% marketplace trading fees on their collection, starting from the day the first piece is minted.
To ensure all creators benefit from our new launchpad offering, this promotion will be applied to all Ordinals collections who've launched on Gamma from day one. In other words, all existing collections that have launched with Gamma will receive a 30 day period of 0% marketplace fees, starting later this week. If you're looking to purchase a piece or list an inscription for sale, there's no better time than now.
---
Trade to win 🙉
OCM Dimensions may be the most exclusive community on Bitcoin. With a revolutionary cursed Ordinals launch combining recursive inscriptions, high-resolution 3D art, and the incredible OnChainMonkey brand, it's no wonder that over 6000 people applied to mint just 300 pieces.
We know not everyone was given a chance to snag one an OCM Dimensions…so, here's your chance to win one, on us.
To enter the Gamma OCM Dimensions giveaway, here's what you need to do:
Follow @trygamma on Twitter and retweet this tweet

Buy or sell any item on Gamma's secondary marketplace.

Your Ordinals address will be automatically entered to win, with one entry per 1000 sats transacted (both on the seller and buyer side).
This giveaway ends on Friday, June 23rd at 11:59pm PST. Good luck! 🍀
For more information, read our complete promo rules here.
---
Resources & education ✏️
It's easier than ever to launch and manage your Ordinals collection on Gamma. To get started, just head over to gamma.io/create/collection-mint. If you're not sure about something, check out the following support articles for FAQs. If you're still having trouble, email support@gamma.io or DM us on Twitter @gammaiosupport. Good luck!
---
Featured artists & collections 🎨
All Legacies Are Lost by Shelby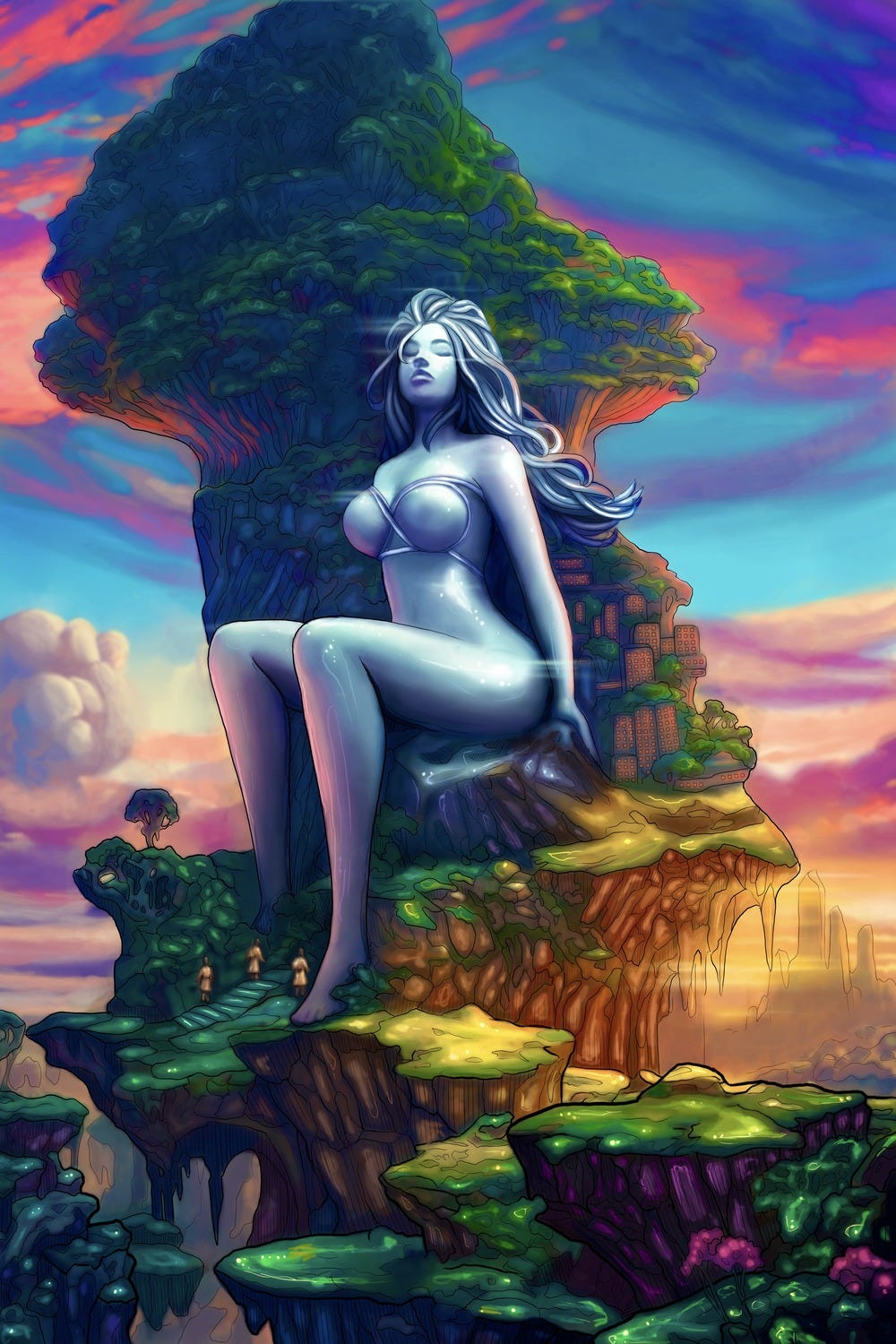 "All Legacies Are Lost" is inscribed on an Uncommon satoshi at 390 KB. This piece depicts a statue of my character, Stardust, in the Sunderlands universe, the world where all my art lives. This piece, along with its companion "The Cost of Time" (inscribed at 100 KB on a cursed satoshi) explores the inescapable impermanence of life. All things are fleeting; all moments of joy will pass, all epic journeys will come to an end, and all legacies will someday be lost to the seemingly infinite annals of time. This piece is the grail of all my creations so far.

The auction will start at 1 BTC, decreasing until .5 BTC. The buyer of "All Legacies Are Lost" will be airdropped "The Cost of Time" and will also receive a signed physical art print of each piece.
​​Shelby is an oil painter, NFT artist, storyteller and art activist. Before becoming a full-time artist, she graduated magna cum laude with a Bachelor's degree in Industrial Psychology from Pitzer College. Since 2019, she has created commissioned oil paintings for many international art collectors and business owners.
In 2021, she began creating fine art NFT collections. She has created an extensive universe where all her art lives, called Sunderlands, fueled by her extreme passion for world-building. She has also cultivated a dedicated community of artists, art collectors and crypto enthusiasts on Twitter, where she hosts weekly spaces and is involved in many projects across multiple chains. She has most recently been excited about Bitcoin Ordinals and the opportunity to create art with a permanence never before possible in all of human history.
Keep an eye out for this special auction coming soon to Gamma. Congratulations on your grail Bitcoin launch, Shelby!
---
Thanks for tuning in, we'll see you next week! ✨