Discover more from The Weekly Stack
The latest alpha on Bitcoin Ordinals & NFTs, brought to you by Gamma.io.
The Weekly Stack: Meet us in Miami 🏝
Welcome to Gamma's weekly newsletter, where we share all the latest news and alpha surrounding Bitcoin Ordinals. Subscribe and share so you never miss an issue!
Nolcha Shows: Ordinals Edition 🏝
Powered by Gamma; Programming presented by Inscribing Atlantis
Get ready for Nolcha Shows: Ordinals Edition, the premier event for Bitcoin builders, artists, and collectors during Art Basel Miami. We'll have talks, art workshops, galleries featuring your favorite artists, and more. Topics will include ordinals core development, infrastructure, scaling, marketplaces, wallets, and apps. Whether you're a creator or collector, a builder or investor, you won't want to miss this.
We're thrilled to be partnered with Inscribing Atlantis, the team behind Inscribing Amsterdam, to present a full day conference of the leading voices in the ecosystem.
Our conference panels and workshops will be hosted by the one and only Isabel Foxen Duke. We're thrilled to be joined by an all-star lineup of Speakers, including Raph, the lead maintainer of Ord. Keep your eyes peeled for more speaker announcements over the coming weeks!
Standard ticket sales will begin next week, but we're launching early with one of three VIP Collector's Edition Tickets, with artwork by Waxbones, an illustrator and graphic designer based in Bristol, UK. The Collector's Edition Ticket will provide a premium event experience, including exclusive and limited edition digital and physical collectibles — sold exclusively as a digital Print on Gamma.
This event is produced by Nolcha Shows, an award winning experiential Web3 events during Art Basel, Bitcoin Conference, Consensus, NFT NYC, and New York Fashion Week. This will be Nolcha and Gamma's second Bitcoin event in Miami, having hosted Nolcha Shows: Bitcoin Edition earlier this year, including a surprise brunch and panel with the ever-magical Taproot Wizards. 🪄
This event is made possible by our sponsors, including Trust Machines, Xverse, Stacks, Console, Leather, and more. Mark your calendars, finalize your travel plans, and we'll catch you in Miami this December.
---
Gamma Prints Challenge
There's just a few days left for October's Print Challenge! We're inviting Partner artists to explore and revisit the Sistine Chapel in their artwork. From its ceiling to its fresco, inside or out, find inspiration in the centuries-old work of art and in your own style, share your vision with us!
You have until 31st October to submit your Print for this challenge, and your work will be featured in a Twitter thread on November 3rd. 
Be sure to share your submission on X/Twitter and tag @trygamma and #SistinePrints so we don't miss it!
---
Welcome to our new Partners!
It's almost November... That means a new intake of Gamma Partner Program Artists joining the top creators on Bitcoin! We planned to accept 10 artists for November, but in the spirit of close votes and Halloween, 13 artists have been accepted. 🎃👻
Congratulations to Jordi Gandul, Aoife O'Dwyer, Sasha Chudo, Andrea Belloni, 8th, Rocketgirl, Lors, mysteriovision, tsitraton, Julien Pacaud, Anthony Azewkoh, spellamin, and Milana Juventa! Follow all the Gamma Partners on our X list here.
Partner of the Week
Today, we meet Swayze Digital, the 90's and street culture inspired artist behind the sub 100k collection Ordinal Fomojis. Swayze entered Bitcoin as the artist and co-founder of Ordinal Fomojis. Born out of crypto language such as fomo, and the internet dialect of fomojis, his unique cartoon style shone through in a collection of 100 ordinals inscribed early on.
As a self-taught artist, Swayze has created contemporary style floor to ceiling installations for luxury hotels in Denver irl. Digitally, he creates cartoon artwork heavily influenced by his passion for gaming and 90's T.V. and skate brands such as Vans.
In a recent conversation with Swayze, we learned about his journey as an artist:
Learning about the immense success some artists had achieved in the NFT space piqued my interest. I already had an iPad and an iPad pencil, and this new knowledge inspired me to delve into digital art. Although I had dabbled in drawing before, my primary interests were always gaming and art, which my family recognized.

Drawing supplies were frequent gifts from my grandmother, which fueled my creative side, especially in combination with my love for gaming. As I ventured into NFTs, I focused on creating traditional-looking cartoons, often featuring black outlines and simple, one-color fills for shirts, faces, or hats. I employed shading, highlighting, and intricate details to capture the essence of classic cartoons, akin to the works of Warner Brothers or Disney. This newfound journey represents my artistic and career evolution, catalyzed by the changes brought about by the pandemic.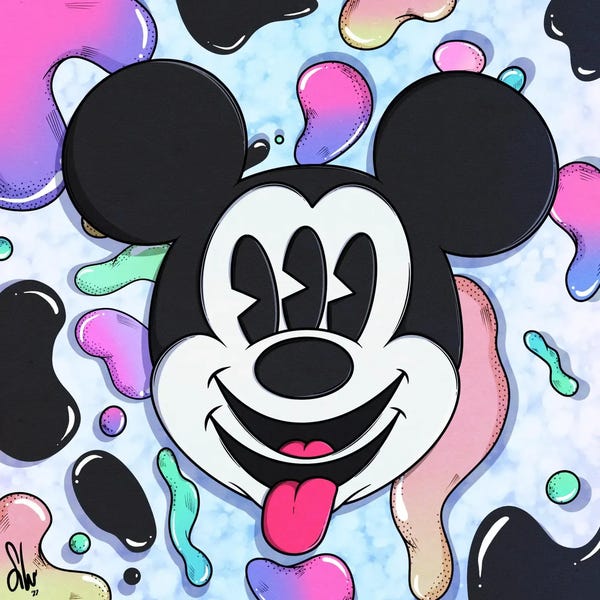 You can listen to our entire conversation with Swayze below:
Keep an eye on all of Swayze's drops with us on Gamma via his profile linked below. So far, he's released four Prints on Gamma, two of which are still available for purchase.
---
Thanks for tuning in, we'll see you next week!
Thanks for reading The Weekly Stack! Subscribe for free to receive new posts and support our work.