Discover more from The Weekly Stack
The latest alpha on Bitcoin Ordinals & NFTs, brought to you by Gamma.io.
The Weekly Stack: Reflections from Bitcoin 2023
Welcome to Gamma's weekly newsletter, where we share all the alpha and news on everything Bitcoin NFTs. Subscribe so you never miss an issue!
Reflections from Bitcoin 2023 🏝️
Last week, team Gamma set off to Miami Beach for Bitcoin 2023 week. We had such a great time meeting creators, hosting panels and parties, and chatting about the future of building on Bitcoin. Let's take a look at some of the highlights!
The debut of Ordinals Alley
At Bitcoin 2023, Gamma hosted the first ever Ordinals focused art gallery, in collaboration with Xverse and Bitcoin Magazine. At the gallery, we featured 21 projects — 11 from early inscription collections, 6 from our artist open call, and 4 curated by Hugo Pouchard.
Here's the complete list of featured artists and collections! Click on their names to learn more.
Future of Art on Bitcoin (Open Call) curated artists:
Future of Art on Bitcoin curated artists:
Early inscription series:
If you missed the live auction last weekend, you can still check out pieces from the collection on sale now 👇
If you didn't get a chance to walk through the gallery, check out this Wes Anderson style reel we made:
Ordinals Conference 2023
At the Ordinals Conference presented by Gamma, we worked with Neoswap to create the first Bitcoin powered smart auction on Neoswap. Congratulations to everyone who participated in this historic auction! Check out the smart auction flow below:
At the conference, we participated in a few panels featuring our CEO Jamil and one of our talented devs Jack N. Stay tuned for recordings of all the talks soon!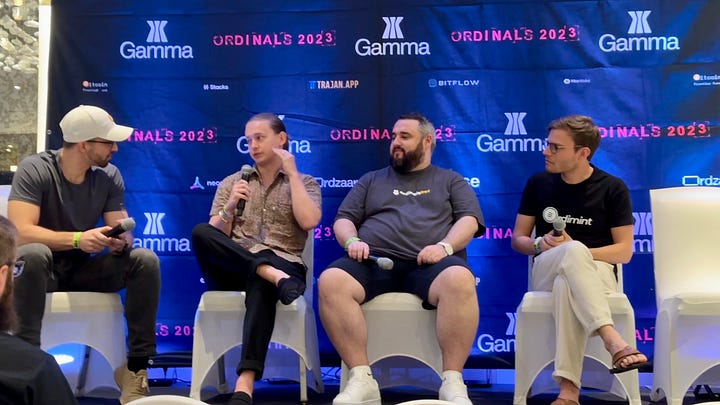 Building on Bitcoin
At pleb.fi and the Bitcoin Builders conference, we took a deep dive into building on Bitcoin with Ordinal inscriptions. A big shout out to all the builders and looking to workshop and hack with new tech on Bitcoin! Keep on building 🫡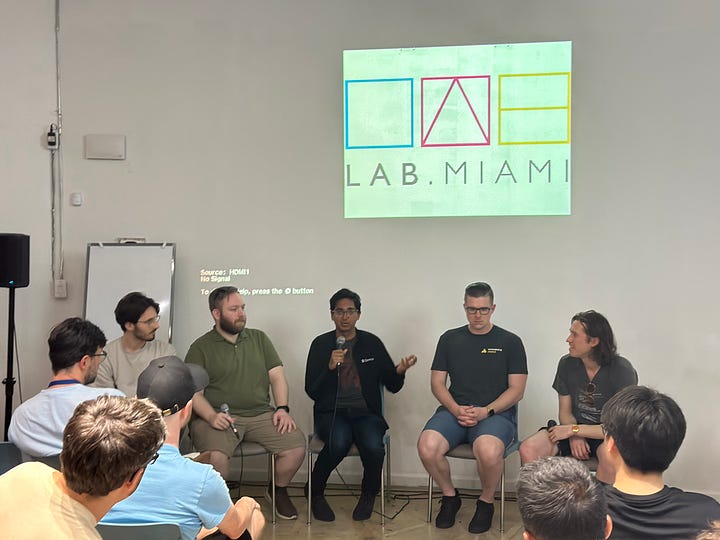 One of the most exciting nights of the week was this special auction series powered by Gamma's new auction tool, held at the Jonathan Schultz gallery (creator behind Ordinal Diamonds), in partnership with BTC DeGods.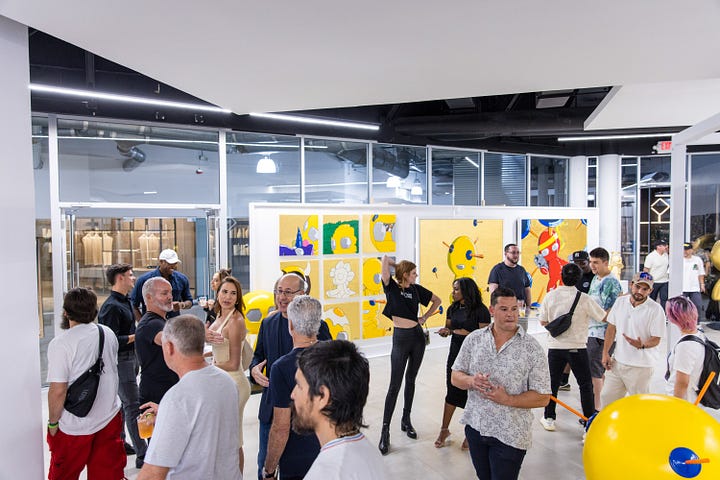 Several of the Ordinal Foundry pieces are still up for sale — check them out below! Many are inscribed on uncommon sats or come with a physical item.
Gamma x Taproot Wizards at Nolcha Shows
To close out the week, we hosted a surprise panel with Udi, Eric, and FAR from the Taproot Wizards, along with Sarah from Gamma as a moderator. Check out the recording of this fun session below!
---
Thanks for tuning in this week, and another big thank you from the bottom of our hearts at Gamma — we wouldn't be here without all of you!