Discover more from The Weekly Stack
The latest alpha on Bitcoin Ordinals & NFTs, brought to you by Gamma.io.
The Weekly Stack: Submit for Ordinals Alley 🖼️
Welcome to Gamma's weekly newsletter, where we share all the latest news and alpha for everything Bitcoin NFTs. Subscribe and share so you never miss an issue!
Showcase your art at Ordinals Alley
Calling all artists! 🚨 Make sure you submit your artwork for consideration at the Ordinals Alley gallery display during Bitcoin 2023, brought to you by Gamma and Xverse! Submissions close on April 7th and will be reviewed by an expert panel of experienced curators.
Click the link below to apply. We can't wait to see you there!
Discover Bitcoin Unleashed 🤯
Did you catch our April Fools day Bitcoin improvement proposal? We recommend giving it a thorough read. Any feedback, memes, and suggestions are highly welcomed. 🫡
Ladies and Gentlemen, we have heard your desperate pleas for more, and the Nakamoto gods have answered, with BIP-316! Rejoice, for the Bitcoin supply cap is being raised from a paltry 21 million to a whopping 21 billion, ushering in a new era of reverse-deflation! No longer will we be shackled by the oppressive regime of scarcity; it's time for Bitcoin to join the ranks of fiat currencies in the inflationary wonderland!
Meet us at NFTNYC 🗽
Join us on April 12th at NFTNYC for an immersive art experience, featuring live performances, music, and art from some of your favorite artists like Grace Hye, Arno Carstens, and Levi Harrell! More deets down below 👇
Sign up now for this exclusive event (password: gammanyc) before we run out of space! Let's party 🥳
Win some Bitcoin 🎊
It's hardly been two weeks since Gamma launched the first truly trustless Bitcoin ordinals marketplace. We're so grateful for your continued support and excitement! To celebrate, we're gonna be giving away some Bitcoin. 👀
To win, just buy or list any inscription on Gamma and you'll be automatically entered to win a cut of 20 million sats. For more information, check out the tweet thread below, and don't forget to share the news with your friends. 🥳 Good luck!
Disclaimer: Please read the terms and conditions for participating in this giveaway. There is no purchase necessary to win, and purchases do not increase chances of winning.

How it works: 1. Buy or list any ordinal on
Gamma.io
now thru April 30, 2023. 2. That's it! Your Bitcoin address will be automatically entered to win one of 11 prizes: - One 10 Million Sat (0.1 BTC) grand prize - One of ten 1 Million Sat (0.01 BTC) prizes
gamma.io
Gamma | Find & Buy Bitcoin Ordinals and NFTs
The best place to find, collect, and sell NFTs on Bitcoin. Gamma is the open marketplace for Bitcoin Ordinals and NFTs, with thousands of Ordinals and NFTs to find & trade.
---
Resources & Education ✏️
Free Discord Bots
Have you heard about our free Discord bots yet? We've been hard at work focusing on creating fun, engaging, easy-to-use Discord bots for any creator to add to their Discord community. Our bots can be added and configured in minutes and have no ongoing costs or maintenance.
We've made it quick and easy to set up bots for verification, sales, listings, and more. Check it out 👇
What's the Taproot Upgrade?
New to Bitcoin? Let's get you acquainted with the Taproot upgrade that enables the Ordinal inscriptions you love.
The Taproot upgrade brings numerous benefits to the Bitcoin network. First and foremost, it improves the network's scalability by reducing the size of transactions and lowering transaction fees. This makes it cheaper and faster to use Bitcoin for day-to-day transactions.

The upgrade also enhances the privacy and security of the Bitcoin network. With the integration of Schnorr signatures and Tapscript, complex transactions can be executed on the blockchain more efficiently and securely. It also makes multisig transactions more private by aggregating them into a single-signature.
---
Featured collections 🎨
Uncommon Sats
We've aggregated a collection for inscriptions created on Uncommon Satoshis, as defined by the Ordinal Theory handbook regarding Sat rarity. Learn more about this method of calculating Sat rarity at ordinals.com!
The first 1k, 10k, and 100k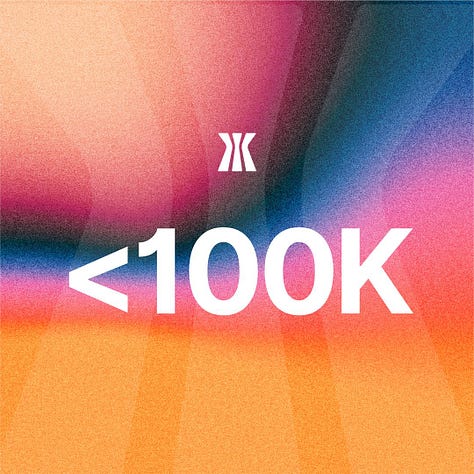 Explore and trade the first 1k, 10k, and 100k ordinals to be inscribed on the Bitcoin blockchain! Will you be a part of the first 1 million ordinal inscriptions?
---
Thanks for tuning in, we'll see you next week!
Thanks for reading The Weekly Stack! Subscribe for free to receive new posts and support Gamma.