Discover more from The Weekly Stack
The latest alpha on Bitcoin Ordinals & NFTs, brought to you by Gamma.io.
The Weekly Stack: Tickets on sale 🎟
Welcome to Gamma's weekly newsletter, where we share all the latest news and alpha on Bitcoin Ordinals. Subscribe and share so you never miss an issue!
Tickets on sale! 🎟
Early Bird ticket sale is now LIVE for the first ever Bitcoin Ordinals conference during Art Basel Miami with Nolcha Shows and Inscribing Atlantis. Tickets are $60 off during the Early Bird sale ($198, reg. $258) while supplies last. Let's dive into the who, what, when, where, and why!
Nolcha Shows: Ordinals Edition is the premier event for Bitcoin builders, artists, and collectors during Art Basel Miami. Topics include ordinals core development, infrastructure, scaling, marketplaces, wallets, and apps. Digital art creation, curation, and collection.
Join us at Sagamore South Beach, Miami's Original Art Hotel for:
Daytime conference: Keynotes, panels, fireside chats, workshops, and art

Networking social: Connect with industry experts, founders, VCs, and more over an hour of complimentary cocktails and live music

Afterparty: Watch live rare and exotic acts, music, performances, and dance the night away 🍾
You can also explore our premium tickets for an elevated event experience including digital and physical collectibles and IRL experiences. Purchase the Collector's Edition Ticket, sold exclusively as an Ordinal Print on Gamma, or the exclusive VIP Ticket available on our website, which provides premium access, networking, and experiences.
Our fully-stacked event takes place across an 18,000 sq ft sprawling indoor and outdoor venue so you can learn, workshop, and connect with the brightest minds in comfort and style. Plus, digital and physical art galleries will be on display throughout the venue for you to enjoy!
Buy your tickets today:
---
Under the Sun: Space Art
There is so much we don't know about space: No-one has ever come back from a black hole to tell humanity about what's on the other side. Are there billions or trillions of galaxies? Will we ever find alien life? What is there beyond the observable universe? Do parallel universes exist? It takes 8 minutes for light to reach the Earth, so is our now technically in the past?
From sunset to sunrise, we've always been able to watch the moon and stars travel through the sky, over and over again. But at the beginning of the 19th century, photography democratised our visualisation of space, stimulating the imagination of the general public and artists alike. Space became a source of inspiration in all art forms: photography, painting, literature, cinematography, and art.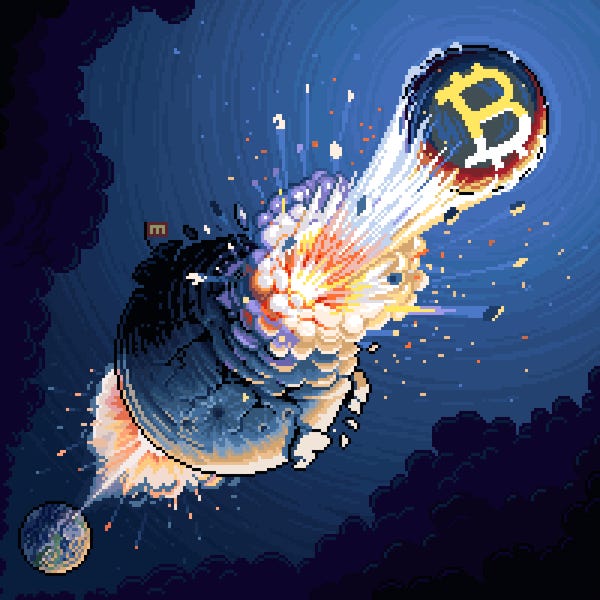 What kind of space art will you create?
---
Partner Artist of the Week
Welcome to another Featured Artist of the Week, a series highlighting remarkable artists creating Ordinals through the Gamma Partner Program! Today, we meet Resaang, alpha caller and artist at Chromatica Ordinals who can also kick your ass in Muay Thai!
Resa's background in finance has given her a "logical thought process in terms of understanding different collections out there," informing her on how to launch collections with considerations to pricing and other dynamics — working in tandem with her creative side.
For her debut launch on Bitcoin, Resa launched the Chromatica Ordinals, which weaves in a lot of texture. She loves that this collection is thematically tied to physical art; you really can see the distinct textures and how the paints come together.
Resa's genesis print on Gamma is titled "Vivid Libations," and is a limited run of 60 prints. Thematically, her Prints showcase still life in high chroma.
In a recent conversation with Resa, she explained not boxing herself into one style, maintaining strong relationships with her holders, and always keeping an eye out for inspiration. You can listen to our entire conversation in the following interview:
Keep an eye on all Resa drops with us on Gamma as she continues pushing the boundaries, linking the physical with the digital, and passionately creates with intention. Follow her launches via her Gamma profile below:
---
Featured Collections
A collection of 21 cursed pepes by sleepless.
The Birds of a Feather Ordinals collection from Gamma team members Eliherf & Cirro is now live!
The Birds of a Feather is a PFP collection where black and white nostalgia meets street culture. Each ordinal unlocks a premium OrdiGallery. Art by TheArtist for The Pandemonium. 
Thanks for tuning in, we'll see you next week!
Thanks for reading The Weekly Stack! Subscribe for free to receive new posts and support our work.